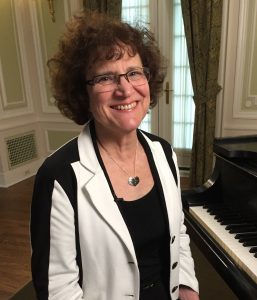 Chair of the Center for Music Therapy since 2004 and a Music Therapist at The Music Settlement (TMS) since 1988, Ronna Kaplan has served clients ranging from premature infants to adults through 103 years-of-age with varied disabilities and levels of functioning. Her special interests are young children and individuals with diagnoses on the autism spectrum, language delays and/or problems in the area of social skills, as well as teen parents or those with mental illness. She was instrumental in developing the Center's Outcomes-Based Measurement tool and program and supervised many TMS Center for Music Therapy interns. Ronna served as TMS Interim Co-Executive Director and Acting Director of the Performing Arts Department/Music School for several months in 2007.
Ronna earned a Bachelor of Music in Music Therapy and Music Education from Michigan State University and a Master of Arts in Special Education from Kent State University. She holds a Certificate in Nonprofit Management from the Mandel Center for Nonprofit Organizations at Case Western Reserve University, as well as certificates in DIRR/Floortime(TM) Basic Course and Orff Level I. She completed her Neurologic Music Therapy training from the Robert F. Unkefer Academy of Neurologic Music Therapy at Colorado State University's Center for Biologic Medical Research in Music. Ronna conducted research on the effects of music on premature infants in Cleveland Clinic's Neonatal Intensive Care Unit, as well as music therapy program goals and outcomes for clients with autism spectrum diagnoses at The Music Settlement. Additionally, she taught classes in Music Therapy Practicum and Adapted Percussion classes at Baldwin-Wallace College for 14 years.
She has held significant positions in state, regional, and national music therapy organizations. A Past President of the American Music Therapy Association (AMTA), Ronna co-chaired the AMTA's Autism Think Tank/Task Force from 2008-2009 and the AMTA Diversity Task Force from 2010- 2015. She served as co-chair of AMTA's Early Childhood Music Therapy Network from its inception in 1994 until 2006. Ronna has published articles and book chapters, guest lectured at colleges and universities, and presented nationally and internationally. She was honored with the Association of Ohio Music Therapists Past Presidents' Club Award in 2011, the AMTA Professional Practice Award in 2003, the Great Lakes Region of AMTA's Service Award in 1997 and their Honorary Life Member Award in 2014.
Currently, Ronna serves as a member of AMTA's Masters Level Entry subcommittee and the Editorial Board for Music Therapy Perspectives. She became the Chair of the National Coalition of Creative Arts Therapies Associations (NCCATA) in October 2016. She also writes a music therapy column for the Huffington Post.
Music for this episode is "Coasts of Cleveland," by The Unsacred Hearts.
Errata: At 5:05 the university mentioned should be KSU, not Michigan State University.