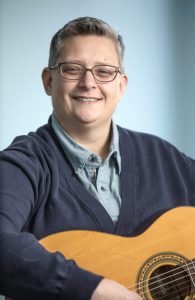 Having worked in music therapy for 24 years, Annette Whitehead-Pleaux is an Adjunct Professor at St. Mary-of-the-Woods College in Indiana. Her clinical work is currently focuses on pediatric burn and orthopedic populations at Shriners Hospitals for Children-Boston. There she provides clinical services that focus on pain management, anxiety management, reduction in trauma symptoms, body image, improving fine and gross motor skills, and quality of life issues. In addition to her clinical work, Annette has conducted clinical research on the effects of music therapy on pain. In 2003, she was awarded the Arthur Flagler Fultz Research Grant Award for her research on the effects of music therapy on pain and anxiety of pediatric patients undergoing medical procedures. She has an interest in and has written about using music assisted technology into music therapy practice, trauma, and multicultural issues. Prior to working with pediatric burn patients, she worked with children, adults, and geriatric individuals diagnosed with mental illness. Additionally, she has worked with children in special education classrooms and women and children at a domestic violence program. She has served AMTA since 1997 on the Assembly Delegates, the Board of Directors (2012- present) the Standards of Clinical Practice Committee (2002-present), the Research Committee (1997-2002), Financial Advisory Committee (2010-present), and the MPT Editorial Board (2011-present). She currently is the Speaker of the Assembly of Delegates. In 2003, Annette was named one of Thirty Extraordinary Bostonians by the Boston Event Guide. She was awarded the President's Achievement Award by the New England Region in 2004 and again in 2012. She has a passion for knitting and being a mom.
Annette is co-editor with Xueli Tan of "Cultural Intersections in Music Therapy: Music, Health, and the Person" from Barcelona Publishers.
Music for this episode is "New England Is Interesting (Reprise)" by BOPD from the album Old Paper Houses Soundtrack.